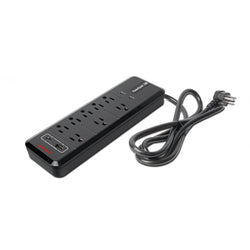 AudioQuest
AudioQuest G8 Surge Protector
Protect your precious AV equipment, charge you mobile devices and improve performance via RF Noise-Dissipation with this cost effective power bar. 
The PowerQuest G8 8-outlet Performance-Enhancer & Surge-Protector features Micro-Spike Technology, Catastrophic-Surge Protection, and RF Noise-Dissipation in a slim (3.3" x 11.9" x 1.2"), durable enclosure with eight AC outlets and both USB-A and USB-C high-speed charging ports.

In addition to the headline-making nature of lightning strikes, much smaller Micro-Spike AC surges strike multiple times every day — and while not catastrophic, they cause cumulative damage to all types of electronics.