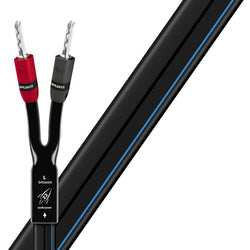 AudioQuest
AudioQuest Rocket 22 Full range Speaker Cables - Pair
These Rocket 22 speaker cables are terminated in a full range configuration using silver sure grip 300 banana connectors. 
A clearly audible step up from Rocket 11, Rocket 22 is an ideal Full-Range or Single-BiWire cable. Single-BiWire allows you to optimize performance when the speakers have Bass and Treble inputs.
Double Low-Inductance Geometry: A "normal" speaker cable has fairly high-inductance, smearing energy across time and making the sound dull and unfocused. The two conductors in each half of Rocket 22 provide lower inductance, greater clarity and superior bass-to-treble frequency extension.

Rocket 22 is prepared with SureGrip 300 silver bananas. These connectors feature Direct-Silver over copper with no layer of nickel in between.