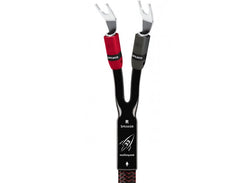 AudioQuest
AudioQuest Rocket 33 10FT Speaker Cables - Pair
One of Stereophile Magazines recommended components the rocket 33 speaker cables are a great choice. These cables come with connectors in gold SureGrip 300 Spade
These speaker cables are terminated in a full range configuration:  2 connectors at the amplifier ends 2 connectors at the speaker ends. 
Contains 2 speaker cables ( 1 left and 1 right )
14 Gauge
Double Star-Quad geometry
Black/Red Braid jacket
SOLID PERFECT-SURFACE COPPER (PSC)/LONG-GRAIN COPPER (LGC) CONDUCTORS
This cable uses a carefully finessed combination of Long-Grain Copper (LGC) and extremely high-purity Perfect-Surface Copper (PSC). LGC has fewer oxides within the conducting material, less impurities, less grain boundaries and definitively better performance. The astonishingly smooth and pure PSC further eliminates harshness and greatly increases clarity.