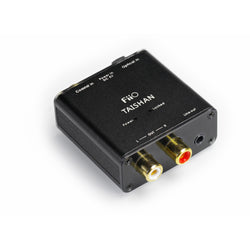 Fiio
Fiio D03k Digital to Analogue Converter
The FiiO D3 DAC is a digital-to-analog converter perfect for connecting devices that have only digital outputs to stereo gear that has only analog inputs.
Specifications:
• Input: S/PDIF coaxial or optical, up to 192 kHz/24-bit
• Power supply: 5 VDC via mini-USB connector, power supply included
• Output power: 1.6V
• Frequency response: 20-20,000 Hz
• Signal to noise ratio: ≥95 dB
• Crosstalk: 85 dB
• Total harmonic distortion: <0.008%

Note: The digital input signal format for this DAC convertor is PCM. The ability to use this DAC device with a television to convert the digital audio output to analog audio is specific to the television. Check your television user manual to see if the S/PDIF output can be changed from Dolby Digital to PCM.
Dimensions: 2.46" W x 1.96" D x 0.84" H