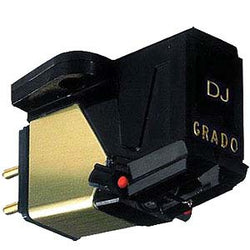 Grado
Grado DJ200i Prestige Phono Cartridge
Built and designed to meet the demanding needs of the professional DJ musician, these cartridges deliver performance never known before in the pro DJ market. The Grado specially engineered transmission line cantilever allows for the ideal transfer of music signal and for safe and effective stylus back-cueing. 
The Prestige model DJ200 uses a modified four piece OTL cantilever technology, oxygen free wire in the coils and a specially designed, high polished, diamond mounted in a brass bushing.
Features and specifications:
Frequency Response: 10-50 kHz 
Principal: MI 
Channel Separation at 1KHz: 47K 
Output at 1KHz 5CM/sec.: 2-5mV 
Recommended Tracking Force: 2.5
Stylus Type: Diamond
Inductance: 45mH 
Resistance: 475 
Compliance CUs: 30
Stylus Replacement: U 
Mounting: S/P 
Weight: 5.5
Warranty: 1 year parts and labour against manufacturing defects in material or workmanship only.