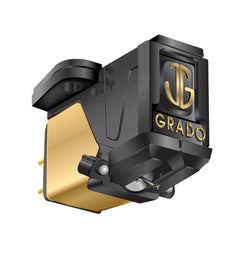 Grado
Grado Silver3 Prestige Phono Cartridge
The Prestige Series by Grado is designed for high output and excellent stability under severe use. A considerable tip mass reduction results in a frequency response to 50 kHz and beyond and tracking forces from 1-2 grams. Acclaimed by experts as virtually the finest pickups in the world at their price. Prestige models available in both 1/2" mount and P-mount. All styli in the Prestige series are user replaceable.
Features and specifications:
Frequency Response: 10-55 kHz 
Principal: MI 
Channel Separation at 1KHz: 35 
Input Load: 47K 
Output at 1KHz 5CM/sec.: 5mV 
Recommended Tracking Force: 1.5 
Stylus Type: E 
Inductance: 45mH 
Resistance: 475 
Compliance CUs: 20 
Stylus Replacement: U 
Mounting: S/P 
Weight: 5.5
Options: Available in 1/2" mount or P mount please specify when ordering 
Warranty: 1 year parts and labour against manufacturing defects in material or workmanship only.