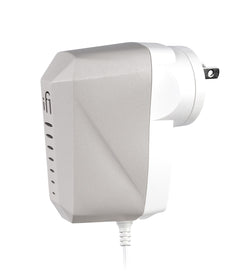 ifi
ifi iPower X power supply
Use an iPower X to replace your regular power supply for clean, noise pollution free power.
The iPower X uses Active Noise Cancellation II  to cancel all incoming EMI or RFI noise.
This is the same tech as in active noise-cancelling headphones! Imagine how well these block out cabin noise on a plane compared to regular headphones?
This is what the iPower X does to your power supply.
Crème de la crème components
iFi is using the latest solid organic capacitors for better suppression of high-frequency noise. And the leakage capacitance is some 20x lower than your normal SMPS!
In a nutshell, there is no escape for unwanted noise!
All in all, the iPower X will give you 20% more power than the original iFi iPower and increased amperage which means it can work with more equipment than ever before.
Available in 5V, 9V, 12V or 15V. Each voltage is individually available for your particular region and includes a reverse polarity adapter for centre pin negative products.