Martin Logan
Martin Logan Dynamo 500 Subwoofer
No other subwoofer offers Dynamo 500's bass extension, power, and detail at such an affordable price. Perfect for either home theater or stereo applications, the Dynamo 500 is solidly built with high-density materials to minimize cabinet resonance and provide a foundation for the high-output 10-inch woofer and high-current 120-watt RMS, 360-watt peak amplifier. Additionally, dual rear-mounted low-turbulence ports maximize bass output while minimizing port induced distortions. Whether you are looking for high performance bass to enhance your music experience or take your home theater system to the next level, a new Dynamo family subwoofer should be at the top of your list.
Low-Distortion 10-Inch Woofer
Dynamo 500's high-resolution driver combines a 10-inch polypropylene cone with a high-intensity magnet structure to achieve huge excursion and output capability without sacrificing detail. By eliminating cone flexure, even at long voice-coil excursions, Dynamo 500's advanced-technology bass driver achieves the very low distortion necessary for proper blending with MartinLogan Folded Motion™ and electrostatic speakers.
120-watt (360-watt peak) Amplifier
Dynamo 500's amplifier belongs to a recently-developed class of switch-mode designs that incorporate a variety of innovative techniques to reduce noise, distortion, and heat to the lowest possible levels. In particular, the switching frequency is much higher than in typical subwoofer amplifiers of this type, providing a tremendous true 120 watts continuously with extremely low distortion.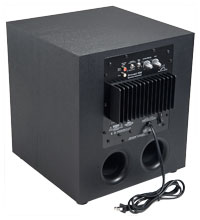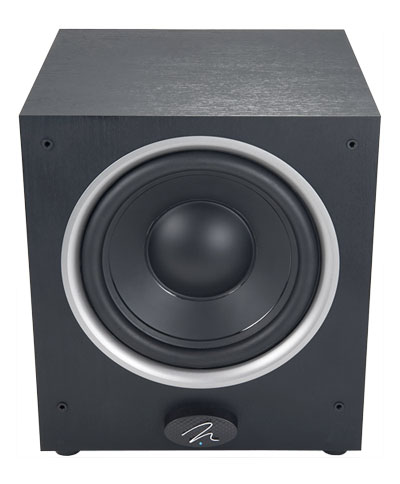 Features and specifications:
Frequency Response 29–200 Hz ±3dB; Anechoic through LFE effects input

10" (25.4cm) high excursion, poly cone with extended throw drive assembly; ported cabinet design

Low pass filter frequency 50–200 Hz

120 watts (360 watts peak)
Finish: Black
Dimensions: 
External Dimensions: 14.69" H x 13" W x 15.27" D 
Weight (Individual) 28.5 lbs
Warranty: 3 years parts and labour against manufacturing defects in material or workmanship only.