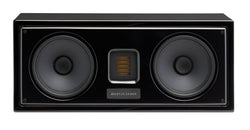 MartinLogan
MartinLogan Motion 30i Centre Speaker
Part of the Martin Logan Motion i series loudspeakers the Motion 30 centre speaker provides accurate dialogue, a perfect match up for movies and TV shows. 

Frequency Response 65–25,000 Hz ±3dB
Recommended Amplifier Power 20—200 watts per channel
Horizontal Dispersion 80°
Vertical Dispersion 80°
Sensitivity 91 dB/2.83 volts/meter
Impedance 4 Ohms Compatible with 4, 6, or 8 Ohm rated amplifiers.
Crossover Frequency400 & 2,600 Hz
High Frequency Transducer 1" × 1.4" (2.6cm × 3.6cm) Folded Motion Transducer with 5.25" × 1.75" (13.3cm × 4.4cm) diaphragm
Low Frequency Transducer Two 5.5" (14cm) aluminum cone with cast polymer basket. Non-resonant asymmetrical chamber format. Rigid structured dust cap to reduce cone break-up modes.
Weight: 18 lbs. (8.2 kg)
Dimensions: 6.9" H x 16.5" W x 10.5 " D
Warranty: 5 years parts and labour