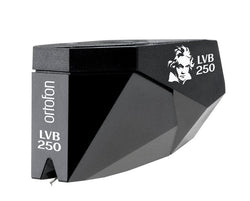 Ortofon
Ortofon 2M Black LVB 250 Phono Cartridge
The Moving Magnet flagship cartridge from Ortofon, the 2M Black has a Shibata diamond stylus giving the listener a very detailed reproduction.

To commemorate the 250th anniversary of the birth of Ludwig van Beethoven, Ortofon announces the release of the 2M Black LVB 250 Exclusive Model. 

The 2M Black from Ortofon is widely acknowledged as being one of the best MM cartridges on the market, but at Ortofon being the best doesn't mean that we can't get better.
The 2M Black LVB 250 uses a Nude Shibata diamond on a Boron cantilever, the combination known from the acclaimed MC Cadenza Black cartridge.
The Nude Shibata stylus' slim, highly polished profile allows an exceedingly wide contact area to the groove walls and ensures notably detailed reproduction throughout the spectrum, including even the highest frequencies.
The use of an extremely stiff and lightweight Boron cantilever adds remarkable transparency, speed and responsiveness.
Technical Specs: 
Output voltage at 1000 Hz, 5cm/sec.  -  5 mV
Channel balance at 1 kHz  -  < 1 dB
Channel separation at 1 kHz  -  > 27 dB
Channel separation at 15 kHz  -  15 dB
Frequency response  -  20-20.000 + 2 / - 1 dB
Tracking ability at 315Hz at recommended tracking force  -  80 µm
Compliance, dynamic, lateral  -  22 µm/mN
Stylus type  -  Nude Shibata
Stylus tip radius  -  r/R 6/50 µm
Cantilever material - Boron
Tracking force range  -  1.5-1.7 g (15-17 mN)
Tracking force, recommended  - 1.6 g (16 mN)
Tracking angle  -  20°
Internal impedance, DC resistance  -  1.2 kOhm
Internal inductance  -  630 mH
Recommended load resistance  -  47 kOhm
Recommended load capacitance  -  150-300 pF
Cartridge colour, body/stylus  -  Black/Black
Cartridge weight  -  7.2 g
Replacement stylus unit  - 2M Black LVB 250