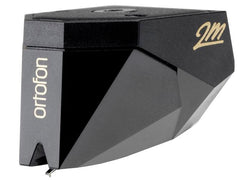 Ortofon
Ortofon 2M Black Phono Cartridge
The Moving Magnet flagship cartridge from Ortofon, the 2M Black has a Shibata diamond stylus giving the listener a very detailed reproduction.
Features: 
The cartridge body used for the 2M Black is manufactured from Lexan DMX Piano Black, a revolutionary material which ensures high rigidity while eliminating unwanted resonances.

The 2M Black uses a special upgraded engine, featuring split pole pins with a silver plated copper wire.
Technical Specs: 
Output voltage at 1000 Hz, 5cm/sec.  -  5 mV
Channel balance at 1 kHz  -  1 dB
Channel separation at 1 kHz  -  26 dB
Channel separation at 15 kHz  -  15 dB
Frequency range at - 3dB  -  20-31.000 Hz
Frequency response  -  20-20.000 + 2 / - 0 dB
Tracking ability at 315Hz at recommended tracking force  -  80 µm
Compliance, dynamic, lateral  -  22 µm/mN
Stylus type  -  Nude Shibata
Stylus tip radius  -  r/R 6/50 µm
Tracking force range  -  1,4-1,7g (14-17 mN)
Tracking force, recommended  - 1,5 g (15 mN)
Tracking angle  -  20°
Internal impedance, DC resistance  -  1,2 kOhm
Internal inductance  -  630 mH
Recommended load resistance  -  47 kOhm
Recommended load capacitance  -  150-300 pF
Cartridge colour, body/stylus  -  Black/Black
Cartridge weight  -  7,2 g
2M PnP MkII cartridge with integrated headshell weight  -  20 g
2M PnP MkII cartridge with integrated headshell length - 52 mm 
Replacement stylus unit  -  2M Black (interchangeable with 2M Bronze)