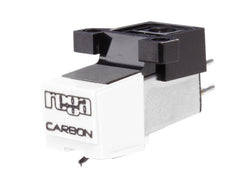 Rega
Rega Phono Cartridge Carbon
The Rega Carbon is a high quality, moving magnet pick-up cartridge designed to be simple to set up, easy to install and above all, accurately reproduce music.
Features and specifications:
Output: 2.5mV at 1kHz
Stylus: User replaceable.
Fixing: Standard, two screws
Cantilever: Carbon
Colour: Black/White
Tracking Pressure 2-3g
Warranty: 1 year parts and labour against manufacturing defects in material or workmanship only.