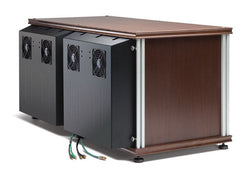 Salamander Designs
Salamander Designs SA/XR20/AC EXTENDED REAR PANEL WITH ACTIVE COOLING
These optional rear panels provide extra depth and prevent heat build-up with thermostatically controlled fans.
Constructed of heavy-weight black powder-coated steel
Provide 3.5" of extra depth to cabinets.
Improves interior ventilation
Easily removable with thumb-nuts for quick components access
Can be used in combination with standard rear panels.
Cannot be used in conjunction with Chameleon TV mounts.
Compatible with Chameleon cabinets that have a 17.75" interior height
Compatible with Synergy 20 Modules
Dimensions: 22 " W x 17.75 " H x 3.5 " D
Model: SA/XR20/AC
This is a non stocked item please expect 4-6 weeks for delivery