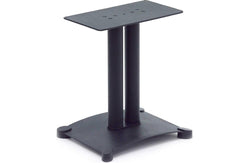 Sanus
Sanus Steel Foundations Centre Speaker Stand
The Sanus Steel foundations centre speaker stand perfectly holds your medium to large centre speaker while providing great stability and isolation. 
Heavy-gauge steel construction
Acoustic properties tested in anechoic chamber
Adjustable carpet spikes
Isolate vibrations with resonance damping rings
Includes brass isolation studs

14 by 8-inch top plate offers adjustable brass studs for center channel speaker alignment.
Height options: 18" or 22" 
Finishes: Black