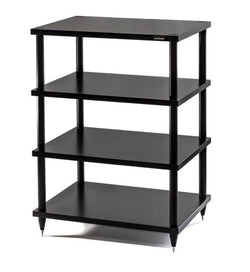 Solidsteel
Solidsteel S2-4 Audio Rack
Made in Italy the Solidsteel S2-4 is a 4 shelf audio stand with a stunning look, stability and great durability. 
The S2 Series is Solidsteel's entry level range of products created to satisfy the very essential needs of those who have necessity of placing components on a basilar vertical structure made of italian quality materials with a considerable convenience of prices. These modular products are designed for the most common components dimensions and are available only in two configurations: with 3, 4 or 5 shelves. Solidsteel S2 Series audio racks provide incredible isolation, increased audio performance, and rock-solid stability in an elegant design. Form follows function on S2, as the line's clean looks blend in with any aesthetic.
Tubes: painted aluminum (anodized) 
Hardware: stainless steel;
Terminals: Iron AVP treated with zinc to eliminate the risk of rust;
Shelves: MDF wood, polymer laminate.
Sustainability for each shelf: 50 kg tested.
Weight: 23 Kg | 50 lbs